Funny FAQs
FAQs
All of your serious or urgent Frequently asked questions should be addressed throughout the website and order pages. 
What I've decided to add here are just a few of the questions I generally hear during NoBooksOnTour.com pop ups, sometimes from you guys, sometimes more third-hand, sometimes as questions, sometimes as curiously incorrect statements ;-)  Keeping it light hearted, I hope you enjoy this wee peek into the world of a self employed designer maker!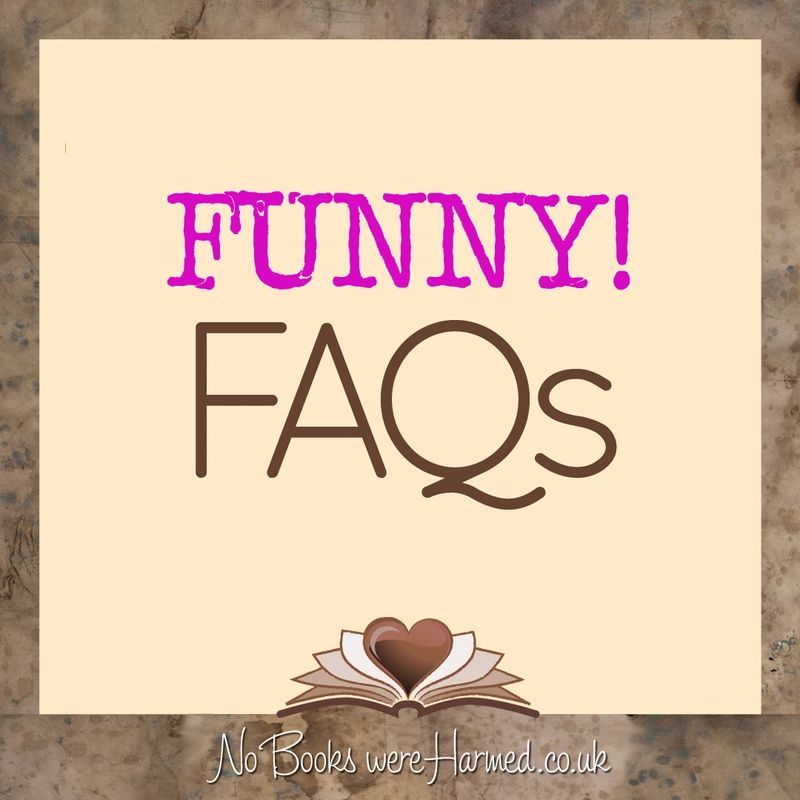 Q. Are they real books?
A. Absolutely!  All preowned, many vintage, I work with an ever changing stock of around 4000 books.
Q. So you draw the designs on the page edges first?
A.  No. In theory, that would work, and if doing something very plain, like a heart, that would work.  But as most of my designs are way more intricate, I personally wouldn't know how to scale down a drawing small enough.  Many of my books are only half an inch thick before I fold them into 12"+ wide sculptures.  
Q. Did you go to art school?
A.  Nope.  I left high school at 15 with a handful of standard grades (not including art) and, 25 years later, have never pursued any further education.
Q. So where did you learn this?
A.  I'm self taught!  It all began when I saw a photo of, like, an Oriental style lantern made from a book.  It simply entranced me, and I had to work it out for myself.  From that point I spent every spare minute playing with books, making mostly geometric type shapes, until the fateful day I created a [very lopsided, messy] heart, and my mind was well and truly blown with possibility!
Q. But you MUST cut them, sometimes?
A.  I have never, ever, in my LIFE, cut a book.  As a child, my Mum would have seriously reprimanded me, and as an adult, it simply doesn't sit right. 
Q. YOU?  Made ALL of these yourself?
A. Yup.  Every single one.  I'll proudly show you the hard earned calluses on my hand, you can even feel them if you want!
Q. Do you follow a pattern?
A. No.  Most of my designs begin life as scribbles on paper, which I take various measurements from and tweak during my trial folds until I end up with notes I can work on to create the same (similar) design again. Occasionally I tackle Photoshop, as it's easier to save my designs, as opposed to the sketches on napkins that I'm surrounded by, but computers and I aren't natural allies! Patterns are now readily available all over the internet, but that wasn't the case when I started, so it's not something I've ever really got in to. 
Q. Do you sell your patterns?
A. No.  The only patterns I write up in full & legible manner are the ones I design for use whilst delivering An Introduction To The Art Of Book Folding workshops.  There's only a handful and they're only available to workshop attendees. 
Q.  But where do you start?
A. Usually on the first page.  Not being facetious.  I used to often start in the middle, working my way out in both directions.  But I find starting at the start flows better.
Q. That's sacrilege, doing that to books!
A. The vast majority of the books I use would have ended up in landfill, had I not intercepted them.  I like to think of it as I'm rescuing books and rehabilitating them for their next life :-)  I TOTALLY get the shock horror initial thought, but this way they live on instead of facing certain death ♥
Q. Do you use a set square?
A. I used to!  I've experimented with all kinds of angles of folds and ways to control my angles, which has included using set squares, bits of card and plastic. These days I use only 2 tools.  A ruler to measure my notes & where I'm going to fold the pages, and a teaspoon to get a sharp crease.  I've heard all kinds of 'insider information' about how I write on the page margins, but it's very rare I make any marks at all within my work - writing on pages is another thing my mother would frown about ;) 
Q. I'll take this book.  Will you sign it for me?
A. Always surreal, although not unusual, and yes, I will, if you really want me to!
Q. Are you arty?  or crafty?
A.  Nope.  I've never tried (or been tempted to try) anything remotely arty or crafty, other than this. I'm a decent cook, that's as far as my creativity goes!  I am the quintessential 'one trick pony', and I kinda like that!
Q. How long have you been doing this?
A. Started as a hobby in 2014.  Registered as self employed on 1st October 2014.  Left my day job of 20 years one year to the day later, and have been solely self employed within NoBooksWereHarmed.co.uk ever since ♥
Q. Bonnie, but dust collectors.
A. Bizarrely, they DON'T seem to gather dust.  And No Books HQ is a pretty good dust-test, believe me!  If you do find you eventually need to dust them, simply hold the covers together in one hand, to keep the pages/folds snug, and vacuum the top.  But, strangely, you will probably never feel the need!
Q. So, if you do this (NoBooksOnTour) at the weekends, what do you do through the week?
A. Uhm.  Source the books, buy the books, prepare and file the books, design the...designs, process online orders, answer tons of emails, keep accounts up to date, book events, be booked for events, plan travel between events, book hotels, go to the post office, do local deliveries, and, y'know FOLD the books! 
Q. Are you a franchise?
A. No, but that question always makes me a wee bit proud.  Lovely to know my 'branding' gives the impression of something far bigger. 
Q. I've seen these before.  My friend made a hedgehog once. 
A.  With the greatest of respect, I didn't say you hadn't seen them before; and as cute as they can be, a hedgehog is to book folding what a puddle is to the Atlantic. I have introduced hedgehogs, lanterns, Christmas trees and the likes to many, many organised groups of SWIs, care homes, visually impaired, social groups etc. I love 'em!  But I don't sell them, they're merely a quick and simple way to give the idea of what folded pages can create, without the need to measure, or, really, concentrate ♥
Q. £12?  For a second hand book? That's expensive;  OR £125?  For 4 days work?? You're affa cheap!
A. Prices are so subjective.  If I charged enough to pay myself minimum wage for the hours I work, there'd be an extra 0 on the end of some of my prices!  And yes, some of my books are a LOT of pennies.  But there's a BIG difference between something being 'expensive' and something being a lot of money.  Many of my pretties are very much a considered purchase - others, not so much.  As for being too cheap?  Technically, perhaps, but the one thing I'm very comfortable with in my wee micro business, is my pricing structure :-)
Q. Could you teach me?
A. Absolutely!  I've delivered An Introduction To The Art Of Book Folding to well over 1,000 students, and have never once encountered anyone who didn't leave complete with their very first folded piece!  I've taught a number of people with visual impairment, physical and mental difficulties and every time worked out a way to ensure they are just as successful as everyone else in the class ♥  I often say 'anyone could do this', and I'm not being blase.
Q. They're lovely.  Do you sell many?  
A.  Haha one of my faves.  Along with my all time favourite comment, always made during pop up, retail events - "have you thought about trying to sell them?".  Yes.  
Q. Do you make a decent living?
A.  First of all, I would never dream of asking anyone what their income is. Secondly, my annual turnover is a VERY nice figure, thank you very much.  But my tiny profit, my actual income, would shock you.  Thirdly.  I make a wonderful living - I get to work from home, with my dogs & cats around me, often in pyjamas...I'm living my lifelong dream.
Q. Ha, wish I had enough free time to do something like this.
A. This is my all consuming vocation.  For the first year, I worked around 50 hours a week in my day job, plus 40ish on NoBooksWereHarmed.co.uk.  Since giving up the day job (most terrifying decision I've ever made), I work an absolute minimum of 70 hours a week, rising to 115+ at peak times.  This isn't something I play at in my free time, this is everything I do in my all time.
Q. Aw, do you do this at night when you're watching telly?
A. a) what's telly? b) I work exclusively from my office desk. Any other position would very quickly damage my neck & back. 
Q. How long do they take?
A.  The actual folding of the final book, anything from a couple of hours to a few days.  Add in the design stages, and a book that takes me 5 hours to fold could easily be 35+ hours in the making. 
Q. Do you have a shop?
A. After a lifetime in retail, in the family business, my idea of a nightmare would be having a shop! I work from my home studio, and my 'shop' is this website and my travelling pop up shop window, NoBooksOnTour.com.  I used to live in a two bedroomed house - now I live in a one bedroom house with a cracking office ;-)
Q.  And my all time, of all time, yet regularly gasped comment - "and THEN you turn them in to books!"....
Have you got a question for me? 
Drop me a line!

Watch me fold a small book in real time
~ Jo
Designer~Maker-Owner~Operator